Niurou Steakhouse
Welcome | Bienvenue
Les specialistes de viande. Nous vous offrons un choix de pieces de boeuf, cuit comme vous aimez et une selection d'accompagnements tellement bonne c'est difficile à choisir. Une salle intime et chaleureuse avec que 28 places, nous ne pouvons pas prendre des groupes de plus de 6 personnes. Ideal pour les couples ou petite groupes. Réservation conseiller.
Your steak specialists. Offering a choice of cuts cooked just how you like it with a selection of sides so good it's hard to choose. The dining space is cosy and intimate, comprising of just 28 seats, we are therefore unable to accommodate large groups – maximum 6 people per booking.  Reservation is advised.
View Menu
Reservations
WINTER OPENING 15/12/23 || OUVERTURE HIVERNALE 15/12/23
OPEN MONDAY - SATURDAY 6PM-9.30PM || OUVERT LUNDI AU SAMEDI 18H-21H30
WINTER | HIVER
DECEMBER – APRIL | DECEMBRE – AVRIL
SUMMER | ETE
JULY & AUGUST | JUILLIET & AOUT
LUNDI 18H30 – 21H30
MARDI- SAMEDI 12H – 14H30 & 18H30 – 21H30
DIMANCHE – FERMÉ
CLOSED | FERMÉ
MAY & JUNE | MAI & JUIN
SEPTEMBER – NOVEMBER | SEPTEMBRE – NOVEMBRE
Chaleureux, rustique et cosy. Se sentir chez soi en "date night", entre potes ou en famille.
Warm, welcoming, cosy. We want you to feel at home whether it's a quick bite with friends, date night or a special occasion. 
La vie est trop courte pour boire du mauvais vin. Notre selection et petit mais bien choisi. On aime ça!!!
We aim to have a wine list that's all killer no filler. Small but perfectly formed. If you're stuck on choice feel free to ask us, we LOVE to talk about wine. 
Le menu a été créé pour vous séduire. Nous essayons de travailler avec des fournisseurs locaux pour obtenir les meilleurs produits.
We created a menu of food you want to eat. We try to keep the supply chain as short as possible where we can, using local produce and suppliers.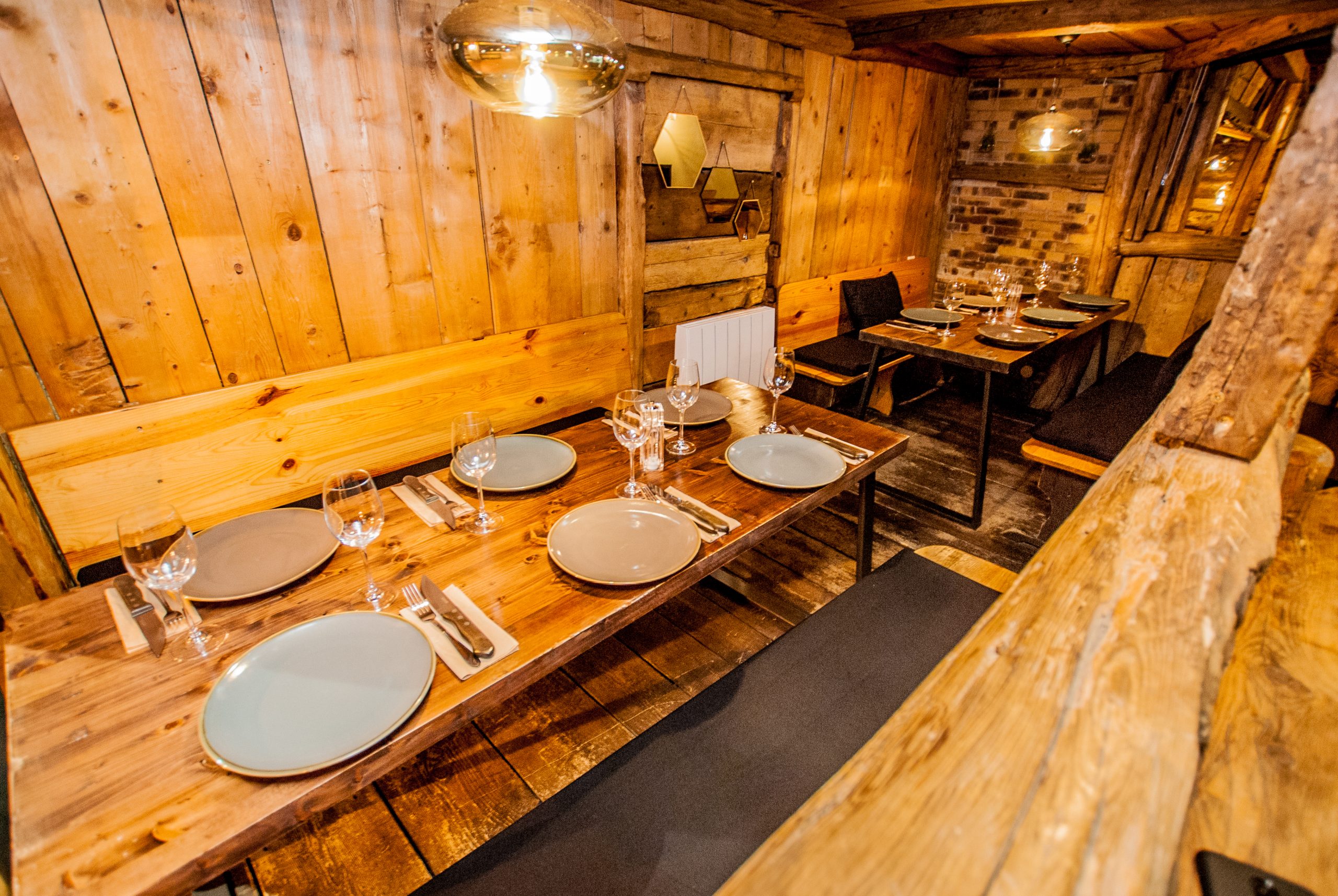 "Amazing food, amazing meat ! Bilingual staff, français/English. Book a table the day before, locals and tourists are crazy about this place!"
"Accueil chaleureux, bons conseils, service rapide, excellent moment!! A ne pas rater si vous êtes sur Tignes "
Nous avons passé un super moment dans ce restaurant, des plats jusqu'au dessert étaient très bons et recherchés, servit rapidement,
La gérante était très agréable, repas divin.
"Fantastic food!!! Visited based upon other reviews. A new restaurant, v highly recommended!"